Well, maybe not a major award, but this time of year that's a fun phrase to use. (Worked well for The Old Man in A Christmas Story, right?)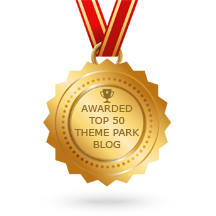 The HoliBlog was recently named one of the world's Top 50 Theme Park Blogs by the folks at Feedspot, a news and blog reader used by more than a million users globally.
We came in at Number 16, alongside some pretty well-known and -respected industry sites. (You can take a look at the full list here, and subscribe to any of them individually – or even the full list.)
I asked Feedspot what they used to determine the Top 50 list, and here's their list:
Search Engine ranking
Social media influence
Social media buzz
Alexa Ranking
Post frequency
Quality score by our editorial team
Blog Age
We've been blogging since the spring of 2005. What would you like us to blog about in the coming months? Leave us a comment, below, and we'll give it a try!
Thank you for joining us on this incredible ride!